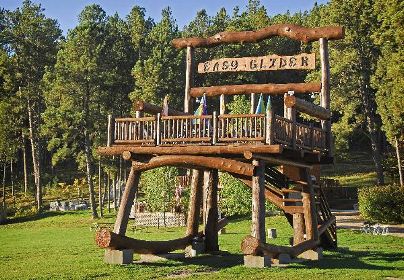 World's biggest mountain sculptures, world's biggest motorcycle rally, western hemisphere's biggest gold mine, two of the planet's biggest caves, and probably the number one biggest cave once we determine where Jewel and Wind caves intersect.
If you've missed it, the operative word here is "biggest," a Black Hills obsession, whether it makes sense or not. It's hard to argue that building the world's biggest rocking chair makes any sense whatsoever, especially since at 60,000 pounds it would take an army to rock it. But, true to form, we claim this nearly four-story piece of furniture, and people love it -- because it's the biggest. You'll find the chair 20 miles south of Deadwood on highway 385, next door to Cousins Pizza. The pizza is excellent, the cousins are super friendly, and yes you can take your pizza up onto the chair (there's a solid stairway). Or you can just go up and look around. It's free...and big!
Address: 22493 US Highway 385, Deadwood, SD
Directions: On US 385, twenty miles south of US 85, or four miles north of Hwy 44. Near Merritt.
Admission: Free